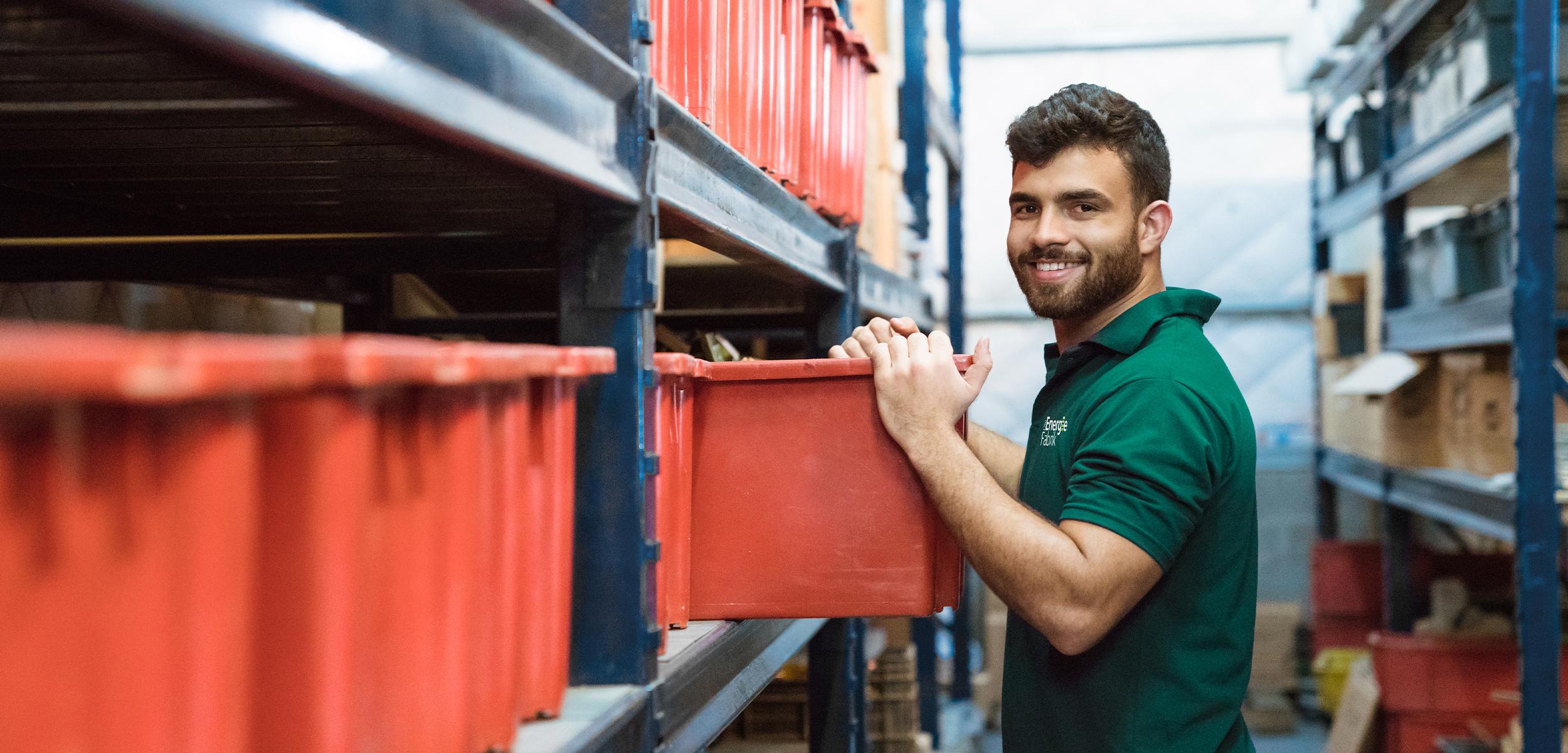 Servicetechniker / Elektriker*
Professionals
Mainburg
2022-03-29
DieEnergieFabrik DEF GmbH, ein Tochterunternehmen der Bachner-Gruppe, begeistert sich bereits seit vielen Jahren leidenschaftlich für den Vertrieb von Heimspeichern. Seit mehr als 10 Jahren betreuen wir als führendes Kompetenz- und Service-Center Fachunternehmen in ihrem Endkundengeschäft. Neben der vertrieblichen und technischen Unterstützung gehören regelmäßige Schulungen und Zertifizierungen der Fachpartner zu unseren Stärken. Von Mainburg aus vertreiben wir Produkte der Marken Fenecon, BYD, Tesvolt und batterX an Fachunternehmen in Süddeutschland und NRW.
What you can expect
Installation und Inbetriebnahme von Photovoltaikanlagen, Speichersystemen und Wallboxen
Technische Unterstützung und Beratung per Mail und am Telefon
Selbstständige Durchführung von Serviceeinsätzen beim Kunden im Umkreis von Mainburg
Erstellen von Dokumentationen
Your skills are in demand
Abgeschlossene Ausbildung im Bereich Elektrotechnik oder vergleichbare Qualifikation
Erfahrung im Umgang mit elektronischen Steuerungen, mechanischen Systemen und industrieller Software
Kenntnisse über den Markt der Photovoltaik, dezentraler Energiespeicher und Ladeinfrastruktur von Vorteil
Sicherer Umgang mit MS Office
Hohe Serviceorientierung, Zuverlässigkeit und Lösungsorientierung zeichnen Sie aus
* Ihr Geschlecht, Alter, Ihre Nationalität oder Religion sind für uns nicht relevant. Ihre Leidenschaft ist uns wichtig!
Our promise for more passion
Employer-funded supplementary health insurance
Employer-funded accident insurance
Subsidy for daycare centers, day nurseries and daycare for children
Promotion of further and advanced training
Numerous purchasing advantages
Employer-funded supplementary health insurance
We offer all our colleagues free insurance coverage worth around €40 per month. Our Bachner Group contract provides partial or full reimbursement for dental treatment, subsidies for glasses and contact lenses, and coverage for up to 45 days a year for worldwide travel abroad.
Employer-funded accident insurance
From their first day of work, all Bachner employees also have private accident insurance. The protection also includes accidents that occur during leisure time and abroad. Our personnel office will handle the compensation payments for you.
Lifetime work account
We support flexible life planning for our colleagues and are happy to allow them to take a sabbatical or private training, for example. To this end, you can pay your remaining vacation, special payments, overtime or part of your salary into a so-called working time account. The paid-in remuneration can be used flexibly for a later leave of absence.
Company pension scheme
We finance your retirement provision through the ElektroRente in the amount of up to €60 per month. In addition, you can top up your monthly contributions through deferred compensation. We will support you with another 15 % on top.
BusinessBike
Our company conditions in the BusinessBike portal enable you to obtain your individual dream bike or e-bike at low cost via salary conversion. And because joint tours are even more fun, you can even lease a second bike, e.g. for your partner. Compared to buying a bike, you can save up to €250 per year with our conditions. In addition, we take over the full insurance for your new BusinessBike. This means that you also receive an all-round carefree package worth around €80 per year.
Subsidy for daycare centers, day nurseries and daycare for children
We support you in balancing family and career in many ways. For the care of your little ones, you will receive a subsidy of €75 per month and child for a daycare center, crèche or daycare. If available, we offer our colleagues in Mainburg a place in our kindergarten group Igelbau.
Promotion of further and advanced training
We demand and encourage independent action and work in all areas. And we create the basis for this through appropriate training, continuing education and regular training courses. Of course in technical matters, but also in personal and social aspects.
Workwear & BachnerShop
When you start work, we will provide you with three pairs of professional work pants and tops free of charge, as well as a pair of safety shoes every year. In addition to workwear, we have other clothing and various accessories in Bachner design for you to choose from. Depending on the annual business result, you will receive a credit for the purchase in the BachnerShop.
Numerous purchasing advantages
All Elektro Bachner employees receive up to 20 % discount on their purchases in the EURONICS Bachner in Mainburg. In addition, our partner Benefit Concepts offers you numerous discounts in local and online stores.
Carpooling to the site
Our work often takes place on construction sites at the customer's location, in industrial halls or office complexes, at schools as well as in airports or clinics. You don't have to drive there yourself – but together with your colleagues from the Bachner location with our company station wagons.
Additional earnings
We are pleased if you actively shape your everyday working life at Bachner. That's why we reward your suggestions for operational improvements with up to several thousand euros. In addition, we also rely on recommendations from your network when looking for personnel. You can receive up to €2,000 in bonuses for successful employee recruitment.
Your application
Thank you for your interest in Elektro Bachner! For data protection reasons, we recommend that you apply via our application form. Your resume is sufficient to give us a first impression. If you have further documents available, such as a cover letter with starting date, salary expectations, diplomas, and references, you can, of course, also upload them too. However, these are not absolutely necessary.
Review of your application
Once you have successfully applied, you will receive a confirmation of receipt to the email address you provide. Now we need some time to carefully review your documents. We will discuss your application with the respective department. While doing so, we will keep all our vacancies in mind.
Telephone exchange
If we still have any questions, we will contact you by phone. We will do our best to get back to you as soon as possible. If we are unable to, please feel free to follow up with the contact person listed on the job vacancy by phone or email.
Getting to know each other
Your application has impressed us and we would now like to meet you in person at one of our locations. In addition to your professional skills, we are particularly interested in finding out who you are, what your passion is, what you draw your energy from, and why we might be a good fit for each other.
We are interested in talking to you on equal terms, where you can also pester us with questions. This is also your opportunity to ask any questions you have about the vacancy, the people at Bachner, and the company.
We look forward to hearing from you!
Contract offer
After a successful interview, you will receive a contract offer from us, which we will be happy to discuss with you on site or over the phone.
Onboarding event
The contract is signed – welcome to Bachner! We want you to quickly find your way around and settle in with us. Our onboarding day is when you can make some first contacts, get to know other Bachner employees, and receive a lot of information about our company processes.
Do you still have questions about the application process?
If you have any questions about this position or about applying to Elektro Bachner in general, please contact Evelyn Winterstein. Our FAQ also offers useful tips for a successful application.
Passion is our energy
We are Elektro Bachner. Creative minds and enthusiastic tinkerers united by their passion for electrical engineering. This is not only our job; it's our fascination and sets our pulses racing. We live our vocation and develop through daily interaction to become successful as a unit. For 100 years, we have been mastering the development of technology together. We continue to grow together – sustainably and beyond ourselves. This is made possible by our employees, who can draw on our experience to live their passion for electrical engineering and amplify our success with their energy.